IACMR研究系列讲座第三十二期
主题: Newcomers Building Social Capital by Proactive Networking: A Signaling Perspective
演讲嘉宾: Songqi Liu, Georgia State University
时间: 9:00- 10:15 am, Jan 11, 2023 (China Time, UTC+8)
语言: English
讲座平台: Zoom
摘要:
Social capital is beneficial for newcomers' learning and adjustment and can facilitate their performance and upward career mobility. However, little is known about how newcomers develop their social networks and accumulate social capital from the ground up. Recognizing newcomers' agency, we propose that future oriented newcomers are more likely to engage in proactive networking behaviors, introducing themselves to peers in the organization. These signaling actions may shape newcomer social networks, and in turn, influence their reputation in the workplace. In addition, we argue that mentoring efficacy of newcomers' immediate supervisor can amplify the effect of their signaling actions in the eyes of the receivers, leading to greater
effectiveness of newcomer networking. Study 1 found that newcomers higher in future orientation engaged in more proactive networking, which helped formulate more ties with their peers. Study 2 found that newcomers who were more future oriented managed to establish a better reputation among managers, via greater proactive networking and building more ties with peer newcomers. In addition, the positive effects of proactive networking on ties with peer newcomers and indirectly on reputation among managers were strengthened by immediate supervisor's mentoring efficacy. The research findings are discussed in terms of theoretical and practical implications.
嘉宾介绍: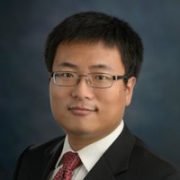 Songqi Liu is an associate professor of management in the Robinson College of Business at Georgia State University and a program officer at the National Science Foundation (NSF), USA. His research has appeared in premier management and psychology journals (e.g., Academy of Management Journal, Journal of Applied Psychology, Psychological Bulletin, and Personnel Psychology) and covered areas including newcomer onboarding and socialization, job search and employment, adaptive and maladaptive coping of individuals and teams, organizational interventions, overqualification, and work-family interface. His work has been widely recognized, as exemplified by two grant awards from NSF and numerous additional awards including the Society for Industrial and Organizational Psychology (SIOP) William A. Owens Scholarly Achievement Award, SIOP Small Grant Award, and Personnel Psychology Best Article Award. He is currently serving as a consulting editor for the journal Work, Aging and Retirement, and will be co-editing a special issue of Personnel Psychology on employee social networks and networking.